The Infrastructure of Cambridge School is well labeled among the schools in bangalore. A best ICSE school with multiple facilities and world class infrastructure.
The infrastructure and facilities are well designed like the classrooms are designed with an aim to provide the much desired 360 degree learning experience to each child, inspiring them to be permanent and qualitative learners. Each classroom has specific areas especially differentiated to nurture multiple intelligence.
The children are synergized by an extremely competent faculty who are specially trained for the early group learners.
A student needs a great learning environment if they experience and balance both indoor studies and outdoor physical activity.
When a kid has a pretty good playground that makes them build the valuable life skills that aid a student to think effectively, encourages them to become leaders and be a good team player. So we motivate students to balance their mental and physical health.
We provide a passable playground for the students to spend less time on electronics gadgets or academic free time.
Auditorium is the unique place where special events happen to make things perfect and special. It is also known as the assembly hall, where the school can conduct massive events, celebrations, recreational activities, daily prayers and more.
Cambridge school has a multiple auditorium, the place where our school principal and all the students meet all together for celebration. There are amazing features and sound effects to glorify the special moments in the school. The Literary Activities like Debate, Extempore, Elocution and Verse Speaking, Dramatics, just a minute, Creative Writing, Pick and Speak are held in our auditorium.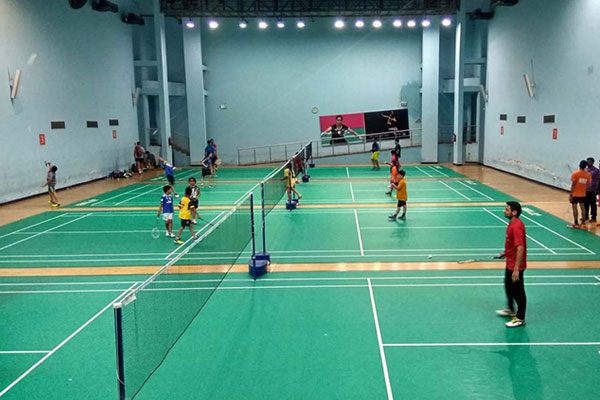 The children need some break from using smartphones, TV, computers and other devices. Indoor Badminton is very much needed to reduce the health risks for adults and children. Even during this pandemic the students are stuck with electronic gadgets to attend the online classes, they get diverted into those gadgets. As sports are very important for every student to keep them healthy and active, we have a separate indoor court for our students and activate the concentration towards sports activities.
Serving as platforms of self discovery the learning areas ignite curiosity within each child. The computer labs have individual systems for the students to empower the knowledge of computing and technology. We at least held one session for computer labs. We don't just showcase what we are taught in books, we induce the students to have better practical skills. Computer lab makes the students be enthusiastic about science and technology.
The Science labs i.e. Physics lab, Chemistry lab, Biology lab is known as state of labs. This lab has the complete package of all the science advancement. The experiments and sessions are conducted actively to analyze pretty well about science. We have separate labs for each science laboratory. The students have separate sessions to assemble and experiment each of the experiments.
Music takes you to peace of mind. It is an improved subject still it leads to better brain development, aid to socialise, induce the connection between humans, improvise the grades, and stress level gets reduced. Our school music room consists of multiple musical instruments to teach the students and a break from the regular classroom life.
Art and craft is the primary aspect to engage education and stimulate the student mind to think better and conclude with the best decision. It strengthens self confidence too. Music elevates the knowledge of creativity in every problem and finds a great solution.
Our school has an art room to help the students to learn arts and to bind the knowledge of simple creative things around them. Art improves academic performance through creativity and also improves the area of interest in math and science.
Library is the basic need for the students to encode the importance of reading, learning and gaining knowledge from books. Library is the essence of school academics. Cambridge School focuses on the significance of libraries so we have a number of books, journals and academy notes. Around 25,000 books are filled in our library.
We have a massive playground and a cricket academy for the students. Every student is fond of sports, when it comes to cricket the interest gets its hype. We train the students who are engrossed towards cricket. Our students participated in inter school and intra school cricket competitions too.
School transport is very important for the students and we dispense school buses for the students. It reduces pollution and traffic. Our responsible drivers and perfect safety measures are taken in our transport. The connective buses are provided and it is circulated all around the bangalore. Our school transport is convenient for our students and ensures the parents with a peace of mind.
A specially assigned corner, exclusively for reading and a platform for storytelling enhances communication and builds imagination, besides fostering confidence. The specially designed classrooms are hubs of well planned activities that enable, empower and encourage the young learners towards thinking rationally, motivating them to ask questions and endowing them with purposeful learning.
QtPi was official from 2016 and until now it has collaborated with 40+ schools. QtPi is to provide practical knowledge to the students by training them with Robotics and STEM. From 2019, QtPi joined hands with Cambridge schools to elevate the knowledge of students in robotics and technology experimentally.
To implement a curriculum for physical, mental, emotional, intellectual. and spiritual progress for achieving multifaceted development.
Gardner's Theory of Multiple Intelligence:
We follow the methodology of multiple intelligence of Howard Gardner for the kindergarten kids as a student can test themselves based on various intelligence to validate their capacity and improve in specific sections.
Our Excellence:
Instill the will to win, inspire to have the desire to succeed, motivate the urge to reach one's full potential thus helping each child to unlock the door to personal excellence.
Personal Attention:
Closely monitor each student's academic progress and also ensure that each child has the skills and confidence to face all learning challenges. We insist the student to develop extra curricular activities.
Safe Campus:
We provide a Student friendly campus that renders the most congenial atmosphere for learning as the safety of each child is our priority.
Holistic Development:
Effectively incorporates an education system with a holistic perspective to develop each child's intellectual, emotional, social, physical, artistic, creative, and spiritual potential.
Best-In-Class infrastructure:
The infrastructure that supports teaching and learning in the most conducive atmosphere where the students thrive to learn new things and are fond of coming to school.